Assembling Your Sculpture
The bases for my sculptures and (if applicable) some parts are detachable for safe transport and easy assembly upon arrival. While you are waiting for your sculpture to arrive, please make sure you have some white glue on hand (also known as school glue, PVA glue, or tacky glue). You can find it almost anywhere and, believe it or not, it excels at bonding together stone. I cannot guarantee results for any other kind of glue so use white glue if possible!
Your package will include:
Main sculpture
Base
Clip-on accessories (if applicable)
Glue-on accessories (if applicable)
Here is a photo instruction guide for my Hanzo sculpture. The same general steps apply to all my sculptures, check the order sheet inside your package for specific instructions.
Make sure you have all the pieces to your sculpture. The order sheet inside your package has a checklist.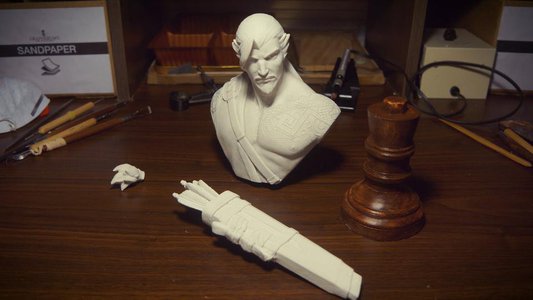 Place the sculpture on the base to test fit, it should fit easily and not too tight. The weight of the sculpture is often enough to keep it on the base but I still recommend glue for a more permanent bond.
To more firmly attach the sculpture to its base, apply a reasonable amount of white glue to the bottom of the sculpture, then place the sculpture back on the base.
Re-position the base however you like, wipe off excess glue, and allow 12 hours to fully dry. Do not attach any clip-on accessories until after 12 hours!
If your sculpture has them, you can attach the glue-on accessories while the base dries. In Hanzo's case, it's just the ponytail. Squeeze some white glue into the ponytail hole and onto the ponytail's key. Allow 5 minutes for glue to get tacky before attaching.
After glue is tacky, insert the ponytail into its hole. Make sure it's the right way up, look at my photos if you're not sure. Press and hold the ponytail in place until it is firmly attached and not moving. Wipe off excess glue.
Wait 12 hours for all glue to fully dry, resist the urge to touch it (I understand how much you will want to). After glue is dry, attach any clip-on accessories (no glue needed) and you're done!
That's all, enjoy your new sculpture! 🙂